3D Dome Cap-Let your scalp breathe freely.
If you wear wigs regularly, then a wig cap is by no means new to you, allowing you to feel more secure in your wig knowing that it will keep your wig in place throughout the day and make your head more comfortable. But with so many options to choose from, you may be wondering what is the best wig cap?
Different types of wig caps
We'll explain each type of wig cap in detail and list the pros and cons so you can know the features that meet your needs and make an informed decision about the best wig cap for you.
1. Monofilament wigs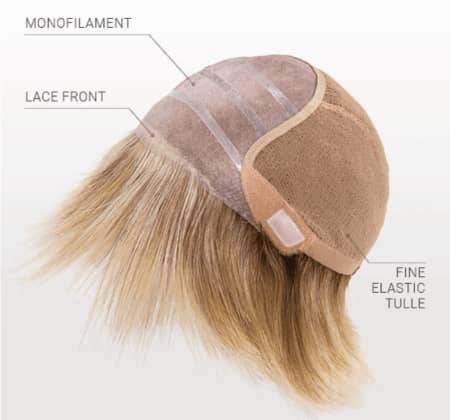 Monofilament wigs have two main advantages - naturalness and versatility. Monofilament wigs use clear polyester or soft nylon mesh on the top and crown area so that your skin tone can show through and create a natural scalp look.
This types of wigs are constructed in relation to the specific area on the cap where the clear mesh part is located. The hair is individually tied to the material part using a purely manual process to simulate natural hair movement.
This design also allows for multi-directional styling and simulates the most natural hair appearance. The lightweight material used in the monofilament wig cap provides a softer feel to the scalp with the advantage of all-day cool comfort.
Monofilament wigs are ideal for women with sensitive scalps because the breathable fabric is gentler and less irritating than the cloth design.
Advantages
● Has a variety of styles to choose from and hair can be moved naturally in multiple directions.
● Lightweight material is cool and comfortable.
● Double monofilament wigs are available to provide better protection for women with sensitive scalps.
Disadvantages
● More expensive than other types of wigs.
● Hand-tied knots may irritate some scalps - but don't forget that double monofilament wigs are always a great choice for sensitive scalps!
2. Lace front wig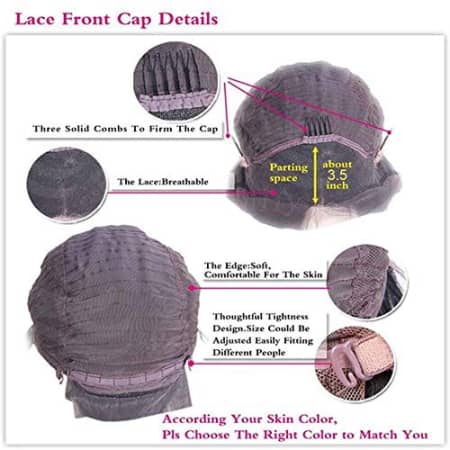 Lace front wig cap is one of the most natural wig cap structure. The front of the wig is almost transparent, making the transparent lace undetectable will create a very natural hairline.
The lace also allows you to style the wig away from your face without having to worry about the edges of the wig being visible to others and causing an embarrassing situation.
This type of wig construction is perfect for women who have hair loss at the front hairline because the invisible lace allows you to style the wig your way.
Advantages
● Handcrafted to create a very natural looking hairline that is convincing and has a very realistic look.
Disadvantages
● Not the most affordable type of wig cap construction.
● The clear lace in the front needs to be handled very carefully when putting on and taking off the wig.
3. Capless / open cap wig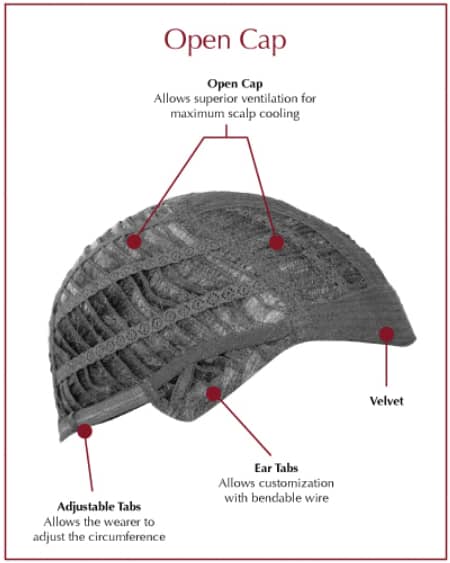 Weft wigs are also known as capless wigs or open cap wigs. They are the most basic wig cap construction, but they are also one of the most popular types of wigs.
Open cap wigs are made from synthetic or human hair weft yarns, and as the name implies, open cap wigs are just that - having an open structure at the wig scalp makes the wig lighter, more breathable and more affordable.
In contrast to the different types of wigs with closed weft yarns, open weft yarns mean that many wig wearers prefer capless wigs because they allow the scalp to breathe, perfect for those hot summer days!
Wefted wigs also have a feature called permatease, which is located at the top of the wig. This visually adds volume to your hair and makes it look like you have more hair.
Advantages
● Affordable.
● Good breathability.
● Permatease increases hair volume.
● Great for occasional wigs and for women who don't need a wig due to hair loss.
Disadvantages
● Cannot support the versatility of the hairstyle.
● Although more and more human hair wigs are using this wig cap construction, most open cap wigs tend to be synthetic wigs.
Less natural and less realistic.
Wearing a wig cap is a personal choice for the wig wearer, and many people choose not to wear a wig cap while wearing a wig. Do you have these same worries?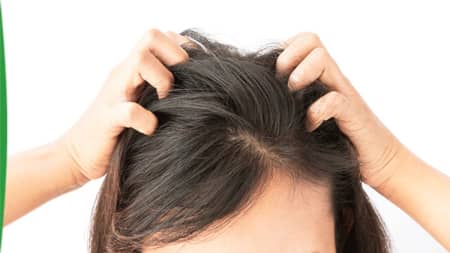 ● Personal characteristics - Some people have more developed sweat glands and their scalp sweats easily, so wearing a wig for a long time can feel very stuffy and the heat on the scalp causes discomfort (especially in the summer).
● People with sensitive scalp - Do you also have sensitive skin? Resistant to some wigs that require glue to maintain firmness? This group of people are easily allergic to some glues and have higher requirements for the material of the wig cap.
● personal preference - if you wear wig cap all depending on the mood, or you are very dependent on glue, wear wig without using glue on the sense of security, or you are completely unacceptable to glue, do not like the feeling of glue sticking to the scalp.
UNice AIR WIG -3D Dome Cap
We usually recommend wearing a wig with a wig cap as it acts as a barrier between the scalp and the wig and adds comfort. If you are having these troubles we highly recommend you to choose our unice air wig.
Unice air wig is a kind of open cap wig, with 3D dome cap and pre-cut lace, with the characteristics and advantages of open cap wig, but also to make up for the shortcomings of most of these wigs on the market.
It uses real hair, making your wig more realistic and natural, and also shaping more possibilities for your look
● Breathable-3D Breathable cap which allows scalp to breathe freely. It's good for natural hair growth, and it promotes healthy scalp.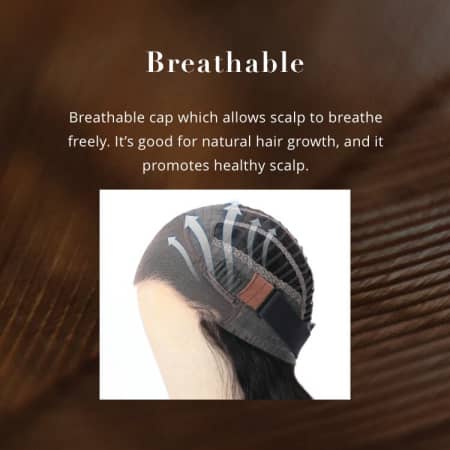 ● Reachable -Scalp won't be suffocated and can be easily reached by fingers.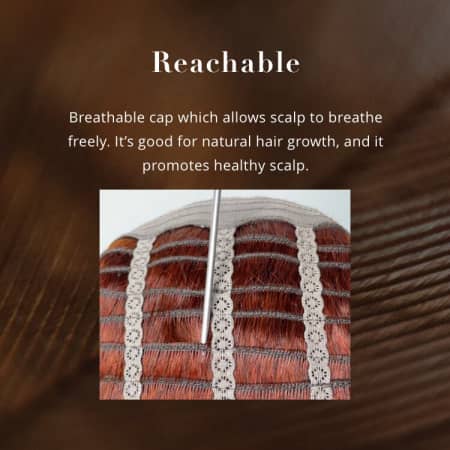 ● Adjustable-Adjustable strap and silicone non-slip band that help the wig to stay still on the head.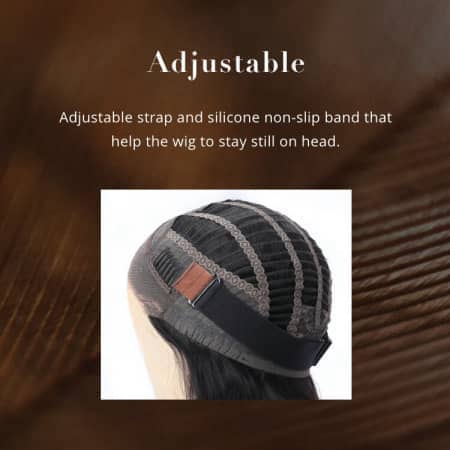 ● Healthy-No glue is needed. Keep your skin free from chemical damages. But if you want to use glue to make the wig more stable is also fine, our wig is wonderful because it can complete your mood as you wish.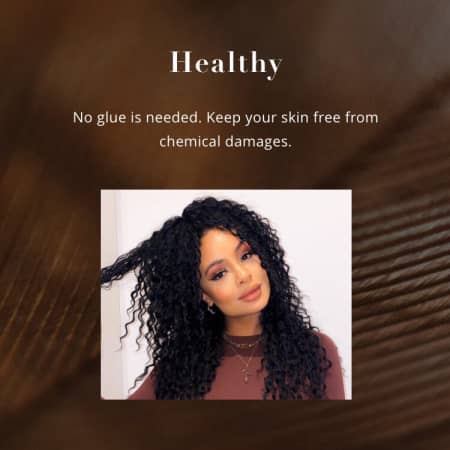 ● Beginner friendly, Easy -Wig is pre-plucked with a pre-cut lace. Fast installation and removal. Braids are not needed.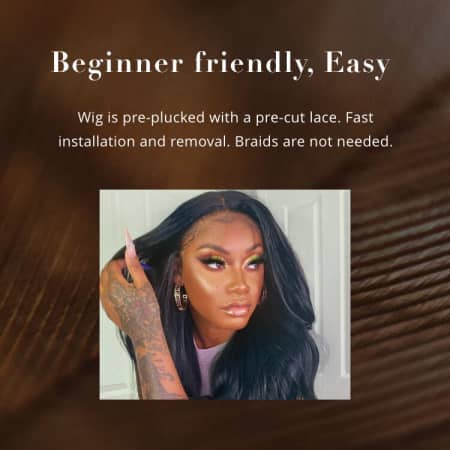 ● Comfort & Secure-Cap with specially measured arch snugs perfectly on your head.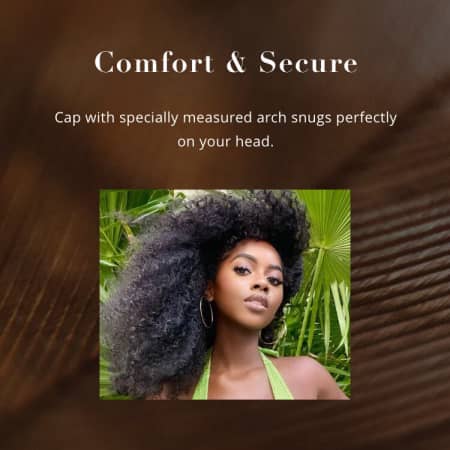 Do you want to try the newest UNice air wig?
1. UNice Air Wig 13x4 Pre Cut Lace Front Reddish Brown Body Wave Wig
2. UNice Air Wig Wefted Capless 13x4 Lace Front Black Curly Wig
3. UNice Air Wig Breathable Cap 13x4 Pre Cut Lace Front Body Wave Black Wig
Now you must have a certain understanding of the wig cap especially the UNice 3D dome cap, I hope this article is helpful to you.