Nowadays, you can find so many suppliers or wholesalers of human hair extensions. Sometimes we don't realize which company supply good quality hair products. Although in the internet, every suppliers claim their products are the best ,but only when you order human hair extensions products at that time,you will know exactly quality of hair products.
A big problem you will be meet to be Non-Remy hair so it make you difficult to use it every day with comb or washing.Firstly, we will see what remy hair is.
Remy hair
Remy hair actually describe the quality of hair used to make up the particular extension. This hair is of the highest quality and comes from a single donor, which ensures consistency in texture. Also, the hair cuticles are intact, in one direction and consists of cuts which are the same length. This provides a smooth texture and allows the hair to last longer and style more naturally.Please read blow article explaining what Remy hair is.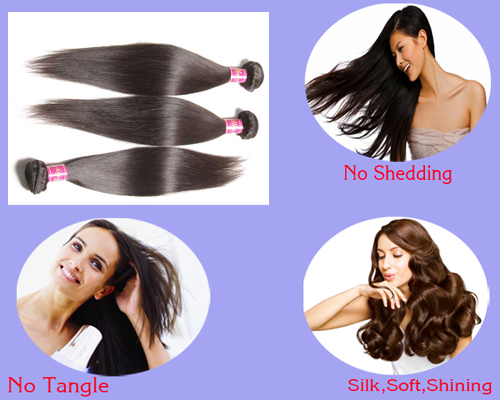 Remy hair is collected in a method in which all hair strands stay aligned in the natural direction as it grew, top at top, and ends at ends, to maintain the natural texture pattern and cuticle direction.It is easy for you to comb (although with your finger), special after washing it. This eliminates tangling problems commonly found in non-Remy or low quality hair.
Virgin hair
Virgin hair refers to hair that is completely unprocessed, and intact. To qualify as virgin hair, it must meet rigorous standards including: not been permed, dyed, colored, bleached, and chemically processed in any way. This also means it comes from a single donor, and all the cuticles are intact, running in the same direction. Virgin hair can last up to a year with proper care and maintenance,you have to care for your extensions just like your own natural hair. You need to shampoo and condition your hair regularly, especially if you use a lot of hair products. If you maintain your brazilian virgin hair extensions properly, you will have sleek, smooth, tangle free beautiful natural looking hair for a very long time and will be able the reuse the hair many times after. Please read blow article explaining what Virgin hair is.
Non-Remy hair
Some companies claim to sell 100% Remy hair, but are mixing anywhere between 10-40% Non-Remy hair into their packs. An expert in human hair can tell the difference between Remy and Non-Remy hair by touching it. Non experts probably will not be able to tell the difference by looking at it.So,how to know the difference between Remy and Non-Remy hair? and how to choose Remy hair to buy?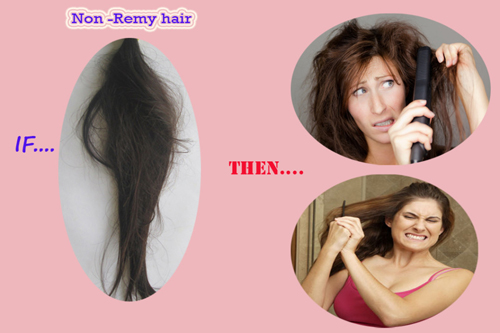 Non-remy hair is collected from the floor of temples, salons and random suppliers. With this type of collection method, cuticle directions become mixed, causing inevitable shedding, tangling and matting problems. To mask the problems that will arise with non-remy hair, the hair will go through a process sometimes referred to as an "acid bath", to completely remove the entire cuticle. This can be equivalent to about ten relaxers in a row. After the cuticle removal process, the hair is dipped in silicone to make it shine and to cover up any cuticles that were not removed in the acid bath. The silicone adds weight to the hair and ups the selling price as hair is sold by weight.The hair initially feel silky and soft, however, after few washes the silicone coating wears off and the hair feels very brittle and starts matting and tangling. Problems will arise with non-remy hair after a few washes and will not last beyond a few washes and cannot be reused. Also, since the cuticles are stripped and not intact, the hair extensions are unable to tolerate color treatment or heat.

So after you know what is Remy hair and What is Non–Remy hair, I hope you can choose better virgin remy hair extensions.