When you are wearing a wig or a weave, you have so many options of how it is worn. If you are interested in preserving the state of your natural hair, a closure is the best way to go.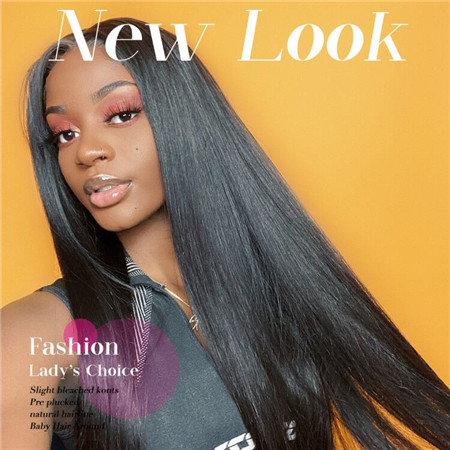 Lace Closures allow the ultimate protection for your hair. They completely cover your scalp making them a great protective style! The benefit of having a full lace closure is that you have more flexibility with how your closure is parted.
You have the option of a three-part, middle part, or free part closure. We have talked about the free part closure in a former article, let's go over everything you need to know about three-part closures.
First, let's talk about lace closures.
What is a closure?
A hair closure is a section of hair (about 3-5 inches wide/long) ventilated in either lace, Swiss lace, or a silk base made to imitate the scalp and give full protection to your hair!
They can be sewn, taped, or glued down. If your hair is broken off, natural, colored, etc. A closure is the best option for you to maintain the health of your hair while you wear weaves.
A free part: You can part this closure anywhere. This closure is also the best if you want to wear your hair straight back with no part. The hair will look like it is coming from your scalp. Click here to get a free part lace closure.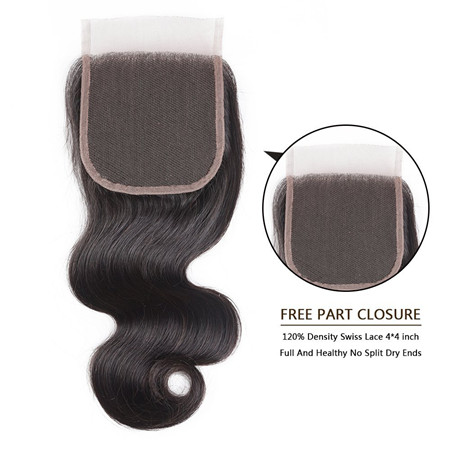 The middle/side part: Which is where the closure is pre-parted one way, and you can only wear the closure parted in that area. Click here to get a middle part lace closure. If you want to wear a side part, just position the part to the side of your head instead of the middle.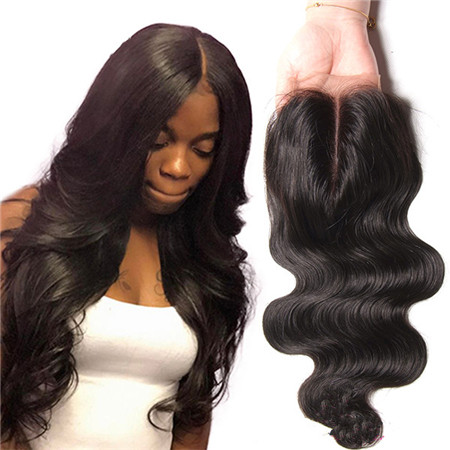 The three way part: Where there are three parts. Two on each side and one in the middle, allows you to wear a middle part and a side part on either the right or left. Click here to get a 3 part lace closure.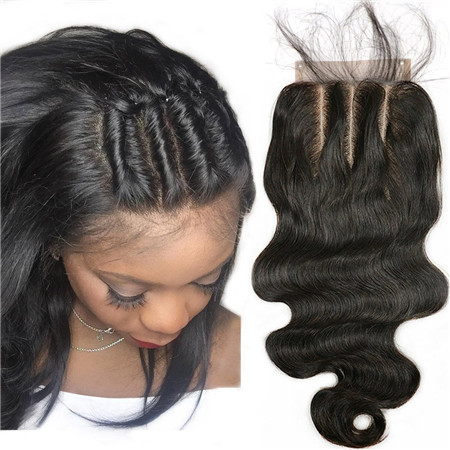 Three-Part Lace Closure enables you to have three different partings very easily. Unlike any closure before you can produce versatile hairstyles with such incredible ease!
How to install 3 part hair closures?
1. Bleach the lace of hair closure to make it blend well with your skin color.
2. Braiding your own hair and wearing a pair of hairnets.
3. Complete the sewing-in or gluing in your hair closure process.
4. Make sure that you leave a U-shaped portion of cornrow braids on the crown of your head. This is what you have to install the lace closure.
5. Apply a thin line of adhesive. Keep in mind that a little bit of adhesive is enough. Gently press it down until it is secured.
Alternatively, you can use a dark-colored sewing thread and a C-shaped needle to attach the lace closure to the U-shaped section of tracks.
Video Tutorial
Full Sew In With a Lace Closure
Pros and cons of 3 part lace closures:
Here are the pros and cons of a PRE-PARTED CLOSURE.
Pros:
Depending on the installation method, a three-part closure can allow you to easily switch your part from side to side.
Depending on the method used, it can make it a little easier for the stylist to install.
Makes it easier for the client to "keep up with their part."
Cheaper (about $30 cheaper than silk), easier to install, lasts longer, doesn't shed as much as silk-based, less visible "line of demarcation" (where the closure starts), goes well with any color scalp
Cons:
Knots have to be bleached or covered with makeup to imitate the scalp.
For someone, these closures do NOT make installing easier. They actually it much more difficult. It restricts me to one or three set parts that look UNNATURAL. Even when they are installed very well.
It requires the stylist to sew the closure down with the pre-part lined up exactly where the client wants their part. If it doesn't perfectly align then the install looks bad!
How to Care For Your Three-Part Closures?
You should do
The first secret to shopping (and wearing) lace closure wigs is to know what you're doing. Anyone can flip into a wig and call it a day but not everyone can pull it off.
Brush your hair closure with a wide-tooth comb softly. Brush the hair gently from the ends as you work your way up to the root. Hold the hair at the root while combing to avoid shade.
Use a mild shampoo while you wash your virgin hair closure. Use shampoos that do not contain sulfates, for sulfates are too harsh for weave closure. Use a good conditioner for keeping your lace closures smooth and tangle-free.
Apply a moisturizing conditioner after every shampoo and a deep conditioner. Because they are made from natural human hair, especially the Brazilian weave will respond to deep conditioning, repairing the cuticle and restoring smoothness and shine.
Use a silk scarf to wrap your hair bundles with hair closure while you are sleeping. This will prevent your closures hair from movement at night and reduce friction.
You can't do
1. Don't do anything rash with your bundles with a closure such as tugging, scratching, or rough handling. These are the primary causes of balding which will do more harm than good.
2. Do not use heavy hair products directly on the closure as this could damage the piece itself. Avoid using too many gels, lotions, oils, or mousse since this can cause tangles and damage.
3. Blot, but don't rub, your hair dry and allow it to air dry whenever possible.
4. Don't style hair closure or frontal too many times. To design your hairstyle that does not require heat, because heat may damage your lace frontal closure. If you want to curl your closures hair, use a soft and ductile roller.
Warm-Up
There is always something you will neglect, for example,
1. choose a suitable hairstyle according to your face、skin color and preferences, the more it natural is, the more beautiful you will be. Why not?
2. You must remember to try your best to do every small thing to care for it, just treat your hair closure like a baby.
3. Closures WILL shift back. There is no way to prevent new growth from taking over. These are not meant to be worn for months at a time; however, it IS possible to fix the closure without getting a new install!
Free part, middle part,three-part closure, how to choose?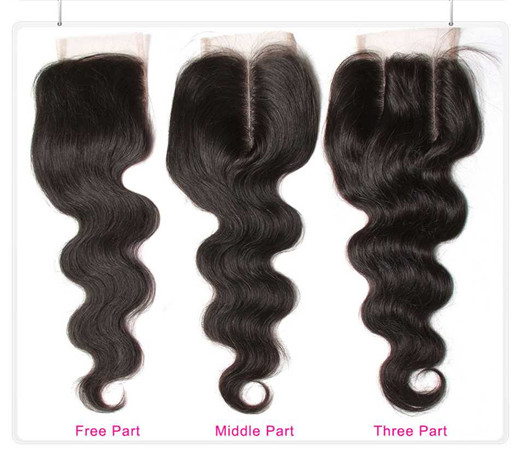 First, the three lace closures don't have any difference in texture and installation. They are all 100% human hair and all hand-tied lace with baby hair. They are equally good and all are easy to style, but it is essential that you bleach the knots for either style of closure.
Second, it depends on the different hairstyle ideas. Three-Part Lace Closure enables you to have three different partings very easily. Unlike any closure before you can produce versatile hairstyles with such incredible ease! You can wear the three-part closure or middle-part lace closure when you only plan to wear the hair with a part.
Third, it depends on your face shape. The middle part or three-part doesn't suit the long face for it draws the face length wards and makes someone look weird. Thus free part may be a better choice for a long face.
Fourth, 3 part and middle part are nothing special. When we wash it many times, it isn't much different from a free part closure. Thus you can choose any one of them if they all-suite your face shape.
When you wear a lace closure, no matter what type of hair your wig or weave is made out of- whether you wear Brazilian hair, synthetic hair, or 100% virgin hair- you have the ability to choose which part you'd like.
You can have a pre-parted closure, such as a middle part or three-part closure, or a free part closure, which gives you the ability to change your part each day! So which do you prefer?
Shop more affordable lace closures sew in
Shop for UNice Free Part Lace Closure Hair Weave
Shop for Affordable Middle Part Closure With Hair Bundles
Shop for UNice Virgin Three Part Closure Hair
Shop for UNice 100% Straight Lace Closure Hair
Shop for Cheap Curly Hair Bundles With Closure
Shop for UNice Virgin Hair Body Wave Hair Closures
Related Articles